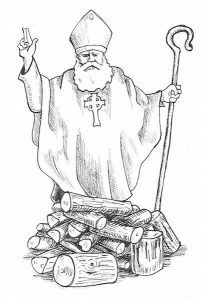 St. Patrick blessing our pile of freshly cut wood (Cartoon by Keith Jones Pomeroy)
Additional information
Arrive at
9:30
 and be welcomed with steaming coffee and fragrant tea, fresh-from-the-oven muffins, and friends new and old.
Work will begin at 
10 am.
Work where you will find it most enjoyable:
by Deer Spring Creek: Jeff Feaga, the land steward for the RRF, will lead us in clearing invasive species
in the garden: preparing beds, getting the garden ready to welcome spring;
within the serene and simply beautiful Retreat House: deep spring cleaning;
under the trees: splitting and stacking wood.
At 
1:00
 we take a break, spread the table, eat, talk, and rest. Then, replenished in body and spirit, we start work anew at 
2:00
 and end at 
4:00
 (or so).  If you choose, you may stay as our guest on Saturday night in the Retreat House.
The hours you log count toward the commitment of your partner group:
enjoy yourself, encourage your community!