March 20, 2022
9:30 am – 12:00 pm
Rolling Ridge Study Retreat (near Harpers Ferry, WV)

Come explore the trails and some fundamentals of mobility and natural running form. Learn how to connect with the landscape on your runs and integrate your health and wellness with the local ecosystem. All experience levels are welcome, and children are encouraged to attend with supervision of an accompanying adult.
Pay by donation! All proceeds go to the Rolling Ridge Conservancy.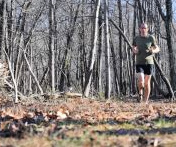 Instructor Luke Bauer is a basket maker, forager, woods wanderer, educator and permaculturist. He has been working at connecting himself and others to the local landscape for more than a decade. He leads workshops on basket making, plant identification, ancestral skills and wilderness awareness.
For more information please contact Luke at community.rollingridge@gmail.com
Scroll down to register on the form below: