(Photography by Josh Houck)
"Because this bird is singing to me,
I belong to the wide wind,
the people far away who share
the air and the clouds.
together we are looking up
into all we do not own
and we are listening."  
– Naomi Shihab Nye
As a child, my family spent each Christmas Eve (one of the shortest, darkest days of the year) at a church service marked by music, poetry and prayer. At the close of every Christmas Eve service, the lights were dimmed to near darkness and the instruments put away as one person with a single candle lit the candle of the next person, who would turn to do the same for the next. While we waited for the light to reach us, the whole congregation sang the familiar and reverent song, "Silent Night, Holy Night". After a few quiet moments the entire room glowed with hundreds of tiny flames borne from one single candle and an old, sacred song was sung as with one voice. Though I could not put it into words as a child, I now recognize those annual ceremonies as some of my first experiences of holy connection and illumination.
Living, working and raising my family at Rolling Ridge, I am reminded continuously of the ways this forest, the network of people who love this place, and the events that happen here seem to exist for this very work of connecting us, drawing our attention to the abundance of life all around us. Just as there are many ways to pray, there are many ways to feel linked to the world outside of our individual selves: Twenty voices filling the Meditation Shelter singing a single note. Ongoing efforts to improve forest health and resiliency. A life-changing conversation by the woodstove. A child stooping low to point out the color of a leaf that you might not have ever noticed otherwise. A group of drummers mysteriously entraining to the same rhythm. That common experience of showing up to a Retreat House full of strangers on Friday night, but leaving on Sunday afternoon as kindreds.
In a disconnected era, when it is all too easy to hide behind our many screens and our deeply-felt rhetoric, such moments of vulnerability and connection reveal themselves with more intensity and significance. This is why it is so very important for Rolling Ridge to continue to serve as a safe place for communities of faith and other moral concerns to explore new frontiers and pursue new possibilities for the well-being of the world.
At Rolling Ridge Study Retreat (RRSR), the last year was full of examples of this reciprocal heart-work, and there is much more to come in 2019! Your generous donations help keep RRSR active, inviting and hospitable. Funds will be used to maintain buildings, roads and meeting spaces. Portions of the donations will also be used to keep the costs of programming affordable for all those who want to come on retreat. I hope you will join us in contributing what you can, to support this place and all the connections still to be made here.
Our Network of Friends
– – – –
Thank you to a everyone who came out to Rolling Ridge in 2018:  Partner group participants, board members, those who helped at our Spring and Fall Workdays, retreatants and people on personal retreats, plus the many hikers, bikers and potluckers. We also enjoyed celebrating our very first Fall Fest with you in November! As always, we appreciate the gift of time spent alongside those who give love and energy to keep Rolling Ridge vibrant!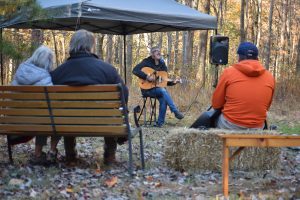 Study & Retreat
– – – –
The various programs offered at RRSR throughout 2018 made space for inner work and meaningful connection: Finding Light in Dark Times meditative arts retreat; Children of the Earth and Girl's Arts to the Ridge family weekends; Singing the Trees: Chant and Nature; Quiet Days/Journey of the Heart for Easter and the Vernal Equinox; Identity, Integrity, and Compromise weekend for exploring political differences; Rising Rooted women's gathering; Just for Today: Day Lily celebrating Haiku; Sound & Silence drumming retreat; Mystery of Mentoring; Return of the Light  for Advent and Solstice.
Going Solar!
– – – –
We are thrilled to announce that in 2018 we fulfilled a long-held dream to use solar energy at RRSR. Through the incredible generosity of many donors, the panels are now fully installed! We appreciated the opportunity to work with the folks at Solar Holler, a unique solar panel developer and installer working to revitalize Appalachian communities that have been decimated by coal mining and left out of an energy future. They partner with the nonprofit Coalfield Development, which supplies crew members from the coalfield counties of WV, providing educational and work opportunities, retraining, and certification. This project was a tangible way to connect RRSR, our partner groups & other guests to our neighbors in other parts of West Virginia, and ultimately to the health of the planet we all share.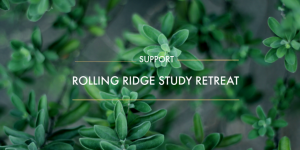 Should you choose to support the ongoing story of Rolling Ridge financially please know that your tax-deductible donation is very much appreciated: Donate Here